How do I tune a violin?
Invest in a violin tuner eg a Snark or Korg Chromatic Tuner
Set the calibration to 440 on the tuner
Watch this online video: https://youtu.be/AylPh-6NTZI
Remember to push in the peg as you turn (you don't want the string to unravel!)
Turn the peg slowly away from you, pushing in the peg as you turn.
Watch the tuner and pluck the string to see which note you're on so you know how far to turn the peg to the correct note:

What is the difference between a fiddle and a violin?
Well they are exactly the same instrument but there's a fantastic variety of different ways to play the same instrument!
You can play classical violin or folk, pop, rock, electric or world music fiddle!!
The options are endless...
just like a guitar you can electrify acoustic violins with a pick up microphone which you fix to the bridge, eg. a Fishman pick up, and it will transform your sound!
Can you recommend a good beginner violin to me?
Yes!
Buy second hand online via ebay, facebook marketplace, gumtree or shpock to save costs and to see if violin is the instrument for you!
If you have £50 –
buy a second hand Stentor 2 violin
If you have £150 –
buy a second hand Stentor Conservatoire, Hidersine Piacenza or Westbury Violin
Or rent a violin for £10/mth with a deposit - just email hendrykate@googlemail.com for details.
Are there any easy violin tunes you could recommend to me to get started?
Yes!
For children I would recommend the Violin Star Books 1 & 2 to get started! There are plenty of easy tunes to get stuck into with a backing CD which you can also make into a playlist!
For adults I would recommend these tunes:
https://consordini.com/best-violin-songs-for-beginners/
I have broken a violin string, how do I fix it?
Check the size of your violin and buy a replacement and watch the video below :)
What size violin should I buy for my child?
When learning to play the violin, it is crucial to select the right size.
In total, there are 7 different violin sizes, ranging from 1/16, 1/10, 1/8, 1/4, 1/2, 3/4 and 4/4.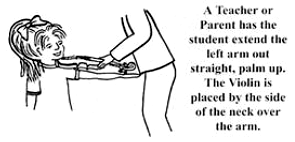 You can size a violin for a child by measuring their arm length and selecting the corresponding violin size.
When your child holds the violin, can they comfortably wrap their fingers around the scroll? If so, the violin is sized correctly.
Can I do violin lessons online?
Yes!
I can teach you violin online via whichever platform you prefer eg. Zoom, Messenger, Facebook, Whatsapp...
Whichever online platform you prefer!
Can you recommend a good bow to me?
Yes!
The Coda Diamond or Coda Luna Violin Bow.
Highly rated by my students and professional violinists...
Not cheap but as you advance, a good bow makes a world of difference to your tone.